My Blog
Posts for: March, 2018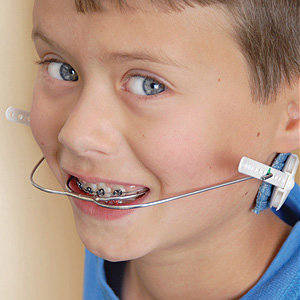 Braces utilize the mouth's existing teeth-moving mechanism by applying pressure in the direction of the desired movement. This is done with a wire laced through metal brackets affixed to the outside of the teeth that's then usually anchored to brackets on the back teeth to maintain constant tension.
This anchorage set-up alone, however, may not work effectively with all bite situations, which might require other points of anchorage. That's where these other tools in the orthodontist's toolkit can come in handy.
Headgear. These appliances not only aid with moving teeth but they also help influence the proper growth of facial structures (as when one of the jaws is too far forward or too far back). Because of this influence on jaw growth you'll only find them used with pre-teens. The most typical application is a strap running around the back of the head or neck (or sometimes over the chin or forehead) that attaches in the front to brackets usually bonded to the molars. In this case the back of the patient's skull serves as the anchor point.
Temporary anchorage devices (TADs). Orthodontists sometimes wish to isolate the teeth to be moved from nearby teeth that shouldn't be. For example, they may want to move front teeth back to close a space without the back teeth moving forward. In this case, it may be necessary to create a separate anchorage point in the jaw. This can be done with TADs, which are made of either biotolerant (stainless steel, chromiumâ??cobalt alloy), bioinert (titanium, carbon), or bioactive (hydroxyapatite, ceramic oxidized aluminum) materials and shaped like mini-screws. Orthodontists insert them into the bone and then attach them to the braces using elastics (rubber bands). After completing orthodontic treatment they're easily removed.
Elastics. We've already mentioned them, but elastics deserve their own category because they can be used in various kinds of anchorage. They play an important role, for example, in cross-arch anchorage that maintains tension between the upper and lower jaws. They can also be used to help move one or more groups of teeth — or isolate certain teeth from moving. They truly are flexible (no pun intended) in their uses for fine-tuned tooth movement.
All these devices can be used in various combinations to match and correct whatever bite situation a patient may have. The end result is straighter and better-functioning teeth — and a more attractive smile.
If you would like more information on orthodontic treatment, please contact us or schedule an appointment for a consultation. You can also learn more about this topic by reading the Dear Doctor magazine article "Orthodontic Headgear & Other Anchorage Appliances."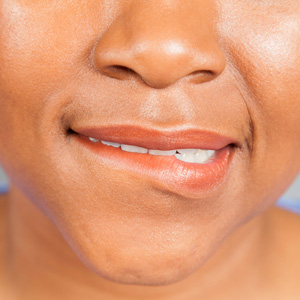 You might not be aware how much force your jaws generate while you eat or chew. But you can become aware in a hurry when part of your inside cheek or lip gets in the way.
What may be even worse than the initial painful bite are the high odds you'll bite the same spot again—and again. That's because of a feature in the skin's healing process.
As a surface wound heals, it often forms a cover of fibrous tissue consisting of the protein collagen. This traumatic fibroma, as it's called, is similar to a protective callous that develops on other areas of damaged skin. In the process, though, it can become "taller" than the surrounding skin surface, which increases the chances of another bite.
This second bite often results in more fibrous tissue formation that rises even higher from the skin surface, which then becomes more likely to be bit again. After repeated cycles, the initial wound can become a noticeable, protruding lump.
These kinds of sores are typically not cancerous, especially if they've appeared to form slowly over time. But they can be a nuisance and the occasion of sharp pain with every subsequent bite. There is, though, an effective way to deal with it—simply have it removed.
While it involves a surgical procedure—an oral surgeon, periodontist or dentist with surgical training usually performs it—it's fairly minor. After numbing the area with a local anesthetic, the dentist will then completely excise the lesion and close the resulting gap in the skin with two or three small sutures (it could also be removed with a laser). The wound should heal within a few days leaving you with a flat, flush skin surface.
The tissue removed is usually then biopsied. Although it's highly unlikely it was more than an annoying sore, it's still common procedure to examine excised tissues for cancer cells. If there appears to be an abnormality, your dentist will then see you to take the next step in your treatment.
More than likely, though, what you experienced was a fibroma. And with it now a thing of the past, you can chew with confidence knowing it won't be there to get in the way.
If you would like more information on dealing with common mouth sores, please contact us or schedule an appointment for a consultation. You can also learn more about this topic by reading the Dear Doctor article "Common Lumps and Bumps in the Mouth."